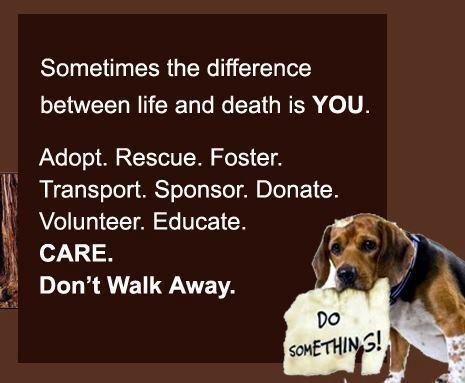 How you can help out……
"Saving the life of one animal may not change the world, but the world will surely change for that one animal"
Please Understand ….."The animals of the world exist for their own reasons. They were not made for humans any more than black people were made for white, or women created for men."
Alice Walker
Show pure Love…"Until one has loved an animal, a part of one's soul remains unawakened."
Anatole France
And be loved……"Such short little lives our pets have to spend with us, and they spend most of it waiting for us to come home each day.
It is amazing how much love and laughter they bring into our lives and even how much closer we become with each other because of them."
John Grogan, Marley & Me: Life and Love with the World's Worst Dog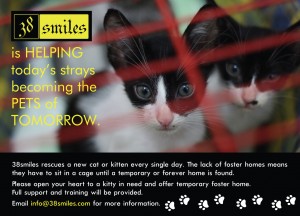 Be a Foster…..Foster homes are incredibly important, as they provide safe and loving temporary homes for our rescued animals until they find forever homes.  By offering your time, energy and home to an animal in need, you prepare the animal for adoption into a forever home.
"It's wonderful being a foster parent.  When the cats first arrive, they are usually quite nervous, dirty and thin.  They need some quiet space and patience to coax them out from whichever hiding place they have found.  After a few days, they come round and you begin to see their real personalities.  Yes, I feel sad when they find their forever home because I miss them, but I am happy for them and them finding a home means that more cats can be helped.  I do like it when their new families keep in touch though and it makes me smile to see photographs of them or hear stories of their latest adventures.  I feel very proud."  Vikki: 38smiles foster parent.
A poem to my foster dog
By Diane Morgan
I am the bridge,
Between what was and what can be.
I am the pathway to a new life.
…………….
For one little time you are mine.
…………….
I will make you whole.
……………..
Because when the time comes
……………..
I will let you go-not without a tear,
But without regret.
For you are safe forever-
A new dog needs me now.
Spread the word……Let all your friends know about us J
Let everyone know what 38smiles believe in……"Happiness is a warm puppy."
Charles M. Schul
….and….. "A cat is a puzzle for which there is no solution."
Hazel Nicholson
Your generosity (donate)….. Your donations will be used towards vet bills, food and TNR (trap neuter and release), alternatively you can donate cat/dog food……"It is the greatest of all mistakes to do nothing because you can only do little- do what you can."
Sydney Smith
You can currently donate to Vienna Vets on Al Thanya Street in Umm Suqeim 2 or via our paypal account: kay.ivanova@gmail.com. Even AED10 or a tin of cat food will go towards helping our rescue cats and dogs.  Thank you in advance.