When adopting a cat, lots of people seem to want kittens.  True, they are very cute and lots of fun, but have you thought about the advantages of adopting a slightly older cat? Kittens grow up very quickly remember…
There are many kitties around one year old who need loving homes.  We are still lots of fun and enjoy playing and cuddling, but the advantage is that our personality is more developed and our foster parent can give you information about the kind of cat we are.  That way, you know much better about whether we will be the right fit for your family.
So, go on, look beyond our size to the cat we have become and the, very often, sad story we have now left behind and give us a chance.  We will love you even more for it.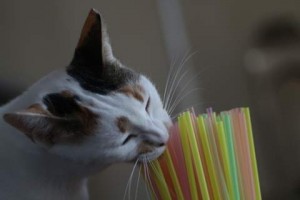 Mimi proving that slightly older cats can still be lots of fun!  Mimi now has a forever home with a family who love her very much.